Ⅲ. Nature's Abundance in Kyushu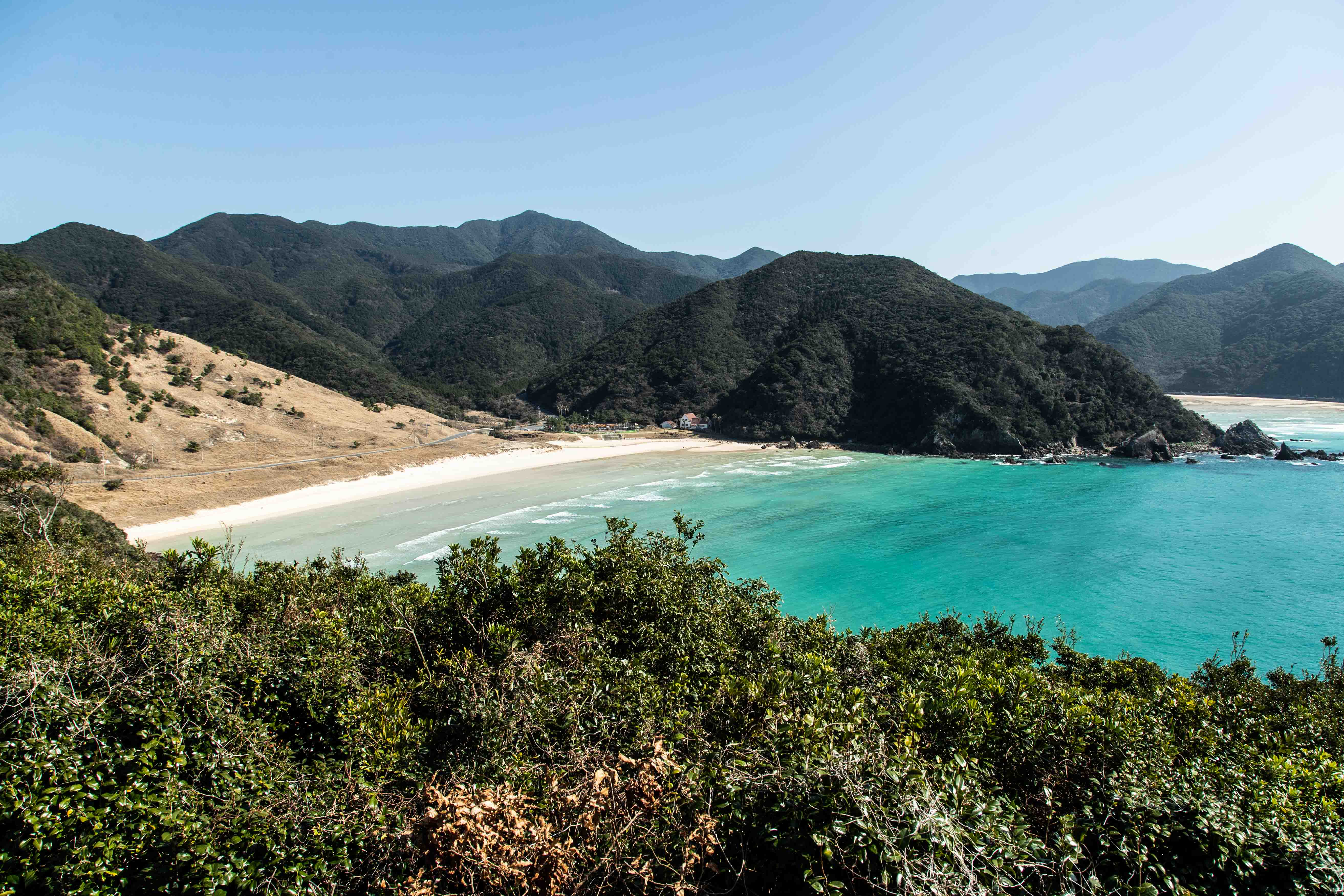 By: Vicki L. Beyer
Ⅰ. Natural Scenery and Enjoying Kyushu's Great Outdoors
Kyushu was formed by the subduction of the Philippine tectonic plate under the Eurasian plate on which it sits. The volcanic and tectonic forces that resulted from this subduction have blessed Kyushu with a beautiful and dynamic landscape that is both diverse and bounteous. As the southernmost of Japan's four main islands, Kyushu is also blessed with a relatively mild climate. For nature lovers, there is much here to love.
Let's start with mountains. Kyushu is volcanic, so of course there are lots of hills and mountains. Often when viewed from a distance, there are gentle, rolling foothills and farther away, layers of mountains, getting progressively higher, their flanks folding on each other and covered with lush vegetation in various shades of green, thanks to evergreen, deciduous and bamboo trees. Depending on the season, the greenery is tempered with other colors: delicate white-pink of mountain cherry trees in spring and just a month later, darker pink to orange azalea blossoms, often in riotous abundance. During fall, the rich gold, brown and red of autumn leaves provide a new visual feast.
Just as there are many types of volcanoes on Kyushu that have erupted in different ways over the millennia, the shapes of the mountains are also varied—some are rounded "sugarloafs" while others come to high, sharp peaks. Mt. Kuju of the Kuju massif is the highest on the island of Kyushu, standing at 1,791 meters (5,876 feet). In fact, there are seven peaks on Kyushu that are over 1,700 meters (5,577 feet).
Of course, where there are mountains there are also valleys, and in some cases deep narrow gorges. This contrast provides magnificent vistas when viewed from a height. There are a few places in Kyushu's mountains where visitors can easily reach that height by taking a ropeway.
Mt. Tsurumi is a dormant volcanic peak (last known eruption was in 867 AD), standing guard over the city of Beppu in Oita Prefecture. The winding mountain road between Beppu and Yufuin traverses the lower flanks of the mountain, and this is where visitors will find the Beppu Ropeway. The 1.8-kilometer (1.1 miles) ropeway carries visitors from a 500-meter elevation to a point of 1,300 meters (from 1,640 to 4,265 feet), where visitors can enjoy expansive views over Beppu and Beppu Bay, or look inland across rolling hills toward Yufuin, Mt. Yufu and even the Kuju massif in the distance. From the top of the ropeway, it's just a short climb on one of several trails to reach the top of the mountain where signboards specify each distant peak. There are also trails leading back down the mountain for those who might want to ride one way and walk the other.
On the other side of Kyushu, on Nagasaki's Shimabara Peninsula, the Unzen Ropeway on the flanks of Mt. Myoken also provides mountain access and mountain-to-ocean views. The ropeway commences from a higher elevation (easily accessible by bus) and travels a shorter distance. But it provides views of mountains, the ocean, specks of islands on the western horizon, and colors of vegetation that are all completely different from what can be seen from Mt. Tsurumi. Unzen is well known for its distinct seasons and seasonal colors. In the winter months, this western flank of the mountains is especially known for its scenic rime, which is a form of frost that clings to tree branches due to mists being frozen by winter winds coming in from the sea to the west. It is a winter wonderland without the harsh cold, so it can be enjoyed in a brief hike from the top of the ropeway.
The Nagasaki Ropeway gives visitors a different scenery as it carries visitors from the city of Nagasaki to Mt. Inasa, which thrusts upward from the northern shore of Nagasaki Harbor. From the observatory at the top of the ropeway, day-time visitors can enjoy the urban harbor panorama to the south and east, the mountain views to the north, and views to the East China Sea in the west. It is easy to understand the overall topography of the city of Nagasaki, which circles the harbor and then runs up several small valleys. It is also easy to see why Nagasaki is such a good harbor. Thanks to its proximity to the city, the Nagasaki Ropeway also runs late into the night, enabling visitors to experience nighttime harbor views that include city lights glittering like jewels at one's feet.
In northern Oita Prefecture, not far from the city of Nakatsu, the mountains include steep, rocky cliffs where wind and water erosion have exposed various layers of stone. At Mt. Rakan, visitors can take a chairlift to the top for views of the mountains and valleys on either side. The panoramic vista comprising a myriad of sharply pointed tree-covered peaks is breathtaking, while views of rice paddies and farms on the flat valley floor are heartwarming.
Halfway up Mt. Rakan is a chairlift station providing access to Rakanji, a Buddhist temple founded more than 13 centuries ago dedicated to rakan (arhat), devout Buddhists who had achieved enlightenment. Like many of Japan's most ancient temples, Rakanji is built against the cliff face. The temple was originally located on a nearby mountain with equally steep cliffs and a very distinctive feature near its peak. Erosion of the cliff resulted in a rockfall (possibly the reason for the temple's relocation), opening a hole in the mountain about two or three stories high that goes through to the other side. It is simultaneously disconcerting and fascinating to see blue sky where the surrounding landscape tells one's eyes there should be brown rock.
Nearly all major mountain peaks in Kyushu are home to some religious structures, whether it is shrines or temples. Shrines reflect Shinto's fundamental connections to and reverence for nature, while the earliest forms of Buddhism practiced in Japan involved mountain asceticism. These are discussed in more detail in "Spiritual Island."
These religious spaces are often the reason for the existence of easy access transport systems, like the Mt. Rakan chairlift. At Mt. Hiko in Fukuoka Prefecture, an even more modern form of transport exists to help travelers ascend at least as far as the shrine there, a contraption known as the "slope car." The Hikosan slope car is a kind of monorail on a gimbal to keep passenger seating level as it travels 849 meters (2,785 feet) over varying degrees of slope. The highest station is at Hiko Shrine, from which there are various trails that allow visitors to explore both the mountainside (old cedar forests) and its various geological features (amazing rock formations!) and other subordinate shrine structures sprinkled throughout the area.
Many travelers also enjoy getting up close and personal with remote mountains. Hiking is an extremely popular pastime in Kyushu, as well as the rest of Japan, so well-groomed mountain trails are plentiful and well used.
Trails might be just short courses where a visitor can spend an hour enjoying the distinctive flora and fauna of an area, or the inveterate trekker might care to fully or partially take on the Kyushu Nature Trail, a 2,587-kilometer (1,607 miles) set of trails that traverses all seven prefectures in Kyushu. The entire Kyushu Nature Trail can be hiked in 130 days and each stage of the trail provides plenty of fresh air and greenery as well as some of the best of Kyushu's varied natural splendor. The tourist offices in each prefecture can provide maps and information relating to their particular section of the trail, which is, in most sections, also well sign-posted.
As an example of a very short hiking course, consider the Unzen Jigoku course (see "Onsens in Kyushu"), which is effectively a scramble over hillside trails to view various mudpots and fumarole steam vents. While visitors to this course are attracted to it for a geological reason, the trail developers have kindly signposted not only the geological features, but also the flora and fauna. Well, the flora is signposted, noting not only the species but also often what makes it capable of enduring the heat and extreme minerals of the area. As to the fauna, there are signs everywhere, including drawings, to alert hikers to the types of birds they can expect to see and hear as they proceed. Avid birdwatchers are surely grateful for the hints, but neophytes will also find this information a useful aid for their appreciation of the area.
Another short hiking course, but with an entirely different atmosphere, can be found on the eastern flanks of Kurodake in Oita Prefecture. In a couple of hours, hikers can walk up a deeply wooded river valley from Meisui Falls, which tumbles over eroded boulders with brightly colored layers of sandstone. The waters rush toward the spring-fed and crystal-clear Oike Pond, and then continue through the primeval forest to another spring at Shiramizu Kosen, where the water emerges from the ground clear and cold, and carbonated. A true rarity! Bring your water bottle and fill up.
Once upon a time, hiking through the mountains was the only way to travel from one place to another, so many hiking trails have long histories. On the Kunisaki Peninsula in northeastern Oita Prefecture, there are ancient trails used by Buddhist ascetics on meditative pilgrimages 13 centuries ago. There are 10 different trails to different religious sites across the peninsula known as Rokugo Manzan. Some of the trails are more obscure, and consequently more exciting because they take hikers along narrow rock ridges and over particularly steep inclines. But the beauty of the landscape and the remnants of ancient religious structures or statues make the effort worthwhile.
Many people enjoy hiking to get deep into mountain woodland to enjoy the energizing negative ions in the air along with the amazing scenery. Surrounded by tall trees (particularly Japanese cedars, which grow amazingly straight and tall) that admit only dappled sunlight also has a sublime relaxing effect.
In each region of Kyushu, mountain hiking trails offer different landscapes to be experienced.
Some trails begin by crossing a meadow, then into brushland before entering the forest and beginning to climb in earnest. Other trails include switchbacks so that the climbs aren't particularly steep, although even with switchbacks some trails make a rapid ascent. Stairs have sometimes been carved into the terrain to make the going easier. On really high trails, there may be very steep sections to traverse, or even boulders or cliffs to surmount. Here, too, the level of trail grooming means that chains have often been installed to aid hikers through those areas.
During every part of each trail, hikers are rewarded with the sights and sounds of the forests or high plains they traverse. Gaps in trees, or even lookout points, afford expansive views across valleys to mountains beyond. In these moments, it almost feels like you are the only person in the world. When hiking in the mountains surrounding any of Kyushu's active volcanoes, the way in which the volcano itself changes when viewed from different perspectives of different lookouts is often a surprise. Sometimes, the shape of the mountain's silhouette is so changed by a different angle that it is only recognizable because steam or ash is rising from its top.
It would seem that all of Kyushu's mountains can be climbed in all seasons, but it is important to keep in mind that during the early summer rainy season trails can be wet and slippery, not to mention the fact that hiking in constant rain isn't particularly pleasant. During winter, the higher peaks are often snow-covered, so it is also important before attempting any winter climb to be sure to have proper winter gear.
Guided hiking or group hiking tours are available in most national parks and geoparks. This alleviates a lot of the difficulties of planning, equipping and executing, making it a good option for both novices and experienced hikers. Visitors can also learn more about the geology of the mountains they are hiking, as well as details of the plants, animals and birds of the area by traveling with an English-speaking guide who is knowledgeable about the area.
Another way to gain an appreciation for Kyushu's mountains and valleys is by walking across one of the pedestrian suspension bridges erected just for that purpose.
The Aya Teruha Suspension Bridge spans the Aya River in Miyazaki Prefecture northwest of Miyazaki City. The bridge is 250 meters (820 feet) long, and the deepest point of the valley is 142 meters (466 feet) below the bridge. The bridge is built at a point where the river makes a 90-degree bend, which allows for very dramatic views of the river and the valley from the halfway point. The forests of these mountains are dominated by laurel trees, a Japanese native tree with aromatic wood that remains green year-round. In 2012, the area was designated as a UNESCO Eco Park principally because its 2,500-hectare (6,178 acre) laurel forest is the largest in Japan. After crossing the bridge, visitors can backtrack, or they can continue on a nature trail through the forest down to the valley floor and re-cross at another bridge upriver. Of course, crossing the suspension bridge is a particular thrill, but in this case, the setting and the chance to learn more about this unique biosphere also hold a special attraction.
The Kokonoe Yume Grand Suspension Bridge, just north of the Kuju mountains in central-west Oita Prefecture, sits above a deep gorge within sight of a pair of tall, narrow waterfalls at the top of the gorge. The steepness of the gorge walls are an especially interesting geological phenomenon. At 390 meters (1,280 feet) long, the Kokonoe Yume bridge is the longest pedestrian suspension bridge in Kyushu. It is also the highest, hanging 173 meters above the river below. The two waterfalls are collectively known as Shindo Falls. Separately, they are Odaki (93 meters/305 feet) and Medaki (83 meters/272 feet). These falls are regarded as the headwaters of Kyushu's longest Chikugo River.
Many amazing rivers tumble out of Kyushu's mountains, fed by rain and snowmelt, often forming cascades and even precipitous waterfalls like the Shindo Falls as they rush toward the sea. These rivers and their falls can be enjoyed on any number of mountain treks. Or the adventurer may want to try canyoning or rafting.
The Kumagawa river rises on the Kumamoto-Miyazaki river and flows 115 kilometers (71.5 miles) to the Yatsushiro Sea. It is one of the fastest flowing rivers in Kyushu with excellent whitewater, particularly in the narrow valley below the town of Hitoyoshi, making it a popular destination for rafting. The river has a couple of different stages open for rafting with plenty of action for thrill-seekers.
The Kumagawa river has long been a transportation link, so there is also a long tradition of using narrow, flat-bottomed wooden boats to carry rice and other products from the mountains to the sea. These boats now carry tourists on "kawa kudari" trips down the river. Visitors who are interested in relaxing while enjoying being on the water and bird watching or taking in the scenery of the valley may prefer this option.
The deep Fujikawachi Gorge in Oita Prefecture near the border with Miyazaki seems almost tailor-made for canyoning, which is basically whitewater rafting without the raft. Participants don life vests, helmets and special rubber pants before getting into a river to let the water carry them over various rock formations. Essentially, the rock shapes carved by centuries of water erosion have made natural water slides that canyoneers can enjoy. The adventure usually includes making a drop of several meters down a nearly sheer rock face into a deep pool, with expert direction from an experienced guide. The experience is most definitely thrilling, and is a particularly refreshing activity in the hottest summer months, which is also when the water is at its best.
Some of Kyushu's gorges are best appreciated on foot. Takkiri Gorge in northern Oita is a great example. This gorge, which gets narrower as one proceeds downriver, has a well-established trail alongside the creek, making it an easy and picturesque stroll. The gorge itself is dominated by layers of volcanic tufa stone with vines and plants growing out of the crevices. Farther up, the tree canopy creates shade. Water slides in sheets across the solid stone creek-bottom, with a depth that's less than a hand's width in most places. Occasionally a more sudden drop creates a bit of gurgling whitewater, but for the most part the only real sound to be heard are birds' chirping. There is a campsite with cabins in the gorge for summer visitors wanting to enjoy this quiet respite a bit longer.
Kyushu also has a number of limestone caves, believed to have been formed by the upthrust of limestone from the seabed that was subsequently subject to erosion, opening up the caves themselves as water moved through the rock. In most caves, stalactites and stalagmites have also formed. The largest such cave is Kyusendo in Kumamoto Prefecture, not far from the Kumagawa where whitewater rafting is available.
Kyusendo was formed over 300 million years ago, giving those stalactites and stalagmites lots of time to grow. The entire cave system is about five kilometers (3 miles) long and only a portion of the cave is open to visitors, who must don a helmet with a headlamp, even though most of the standard tour route is a concrete path, including steps in places. A standard visit takes about 30 minutes and an add-on "adventure" course is available to allow slightly longer viewing of the cave. The cave is home to about 20,000 bats, so expect to enjoy the fragrant aroma of guano while inspecting the rock formations of the cave.
Another limestone cave that arose from the sea millions of years ago is Nanatsugama Limestone Cave in Nagasaki Prefecture. Similar to Kyusendo, the cave is much larger than what is open to the public. There is both a self-guided tour taking about half an hour and a "behind the scenes" tour that requires a helmet with a headlamp. One highlight of the self-guided tour is the waterfall, water cascading down one rock wall of the cave. The erosion that created Nanatsugama also gave rise to pockmarks and other rock formations that are quite different from those at Kyusendo.
Another good cave for stalactites--perhaps the best in Kyushu--is Furen Cave in Oita Prefecture. This cave, which the locals call the Dragon Palace, is regarded by many as one of the most beautiful caves in Japan, with hundreds of stalactites that have grown together to look like organ pipes and as many other shapes as one's imagination might conjure. The formations in the largest chamber of the cave were so phantasmagorical that one might feel that one was "in the belly of the beast." The staff at the entrance were friendly and helpful, wanting to provide as much information as they could in spite of not speaking any English.
For a more unique cave experience, try Inazumi Underwater Cave, also in Oita. There is an underground river running through much of this cave, and the walkway through the cave is a catwalk over the top of it. Where the cave widens, visitors can see ponds of clear water with small fish swimming in them. One odd feature of this cave is the use of colored lights to illuminate it. At Inazumi, with advance reservations visitors can snorkel in one of the deeper cave ponds or even have a brief scuba diving experience. Licensed divers who have their own gear can arrange to go for an actual cave dive… if they dare!
Serious spelunkers may prefer the Hiraodai area in Fukuoka Prefecture. Hiraodai is Kyushu's major karst plateau and one of the three largest in Japan. On the surface it is a bizarre landscape of eroded limestone boulders surrounded by tall grass gently wafting in the breeze. This landscape alone makes it a worthwhile visit. Beneath the surface are as many as 200 limestone caves, many of which can be explored by spelunkers in guided tours. For those not wishing to crawl through mud in narrow spaces lit only by a headlamp on their helmet, Senbutsu Limestone Cave might be a good alternative, although one's feet could still get wet! About 900 meters of Senbutsu cave is artificially lit and easily accessed, but in places it is necessary to wade through the river that runs through the cave.
On the coastal plains, Kyushu's calm rivers broaden to form waterways that have historically been used for transportation as well as to irrigate crops. Here, too, visitors can enjoy abundant birdlife, especially in winter when migratory water birds call Kyushu's rivers home. A particular treat is found at Izumo, in northwestern Kagoshima near its border with Kumamoto, which is renowned as the winter home to 10,000 to 12,000 Japanese cranes of four species.
Kyushu's coastlines are often particularly picturesque. In some areas, there are pale, sandy beaches, while in other places, rocky crags seem to tumble straight into the sea, a scenic riot of colors as the green of native trees gives way to black jagged rocks, which in turn, plunges straight into the blue of the ocean or the white of the breaking waves (for more, see "Ocean and Islands").
Indeed, water is another element that helps define Kyushu. As an island, the ocean separates it from the rest of Japan, as well as from the rest of the world. Yet its proximity to the Asian mainland has enabled it to act as a gateway between the rest of the world and the rest of Japan since before time (for more, see "Gateway"). At the same time, it is the abundance of freshwater tumbling out of the mountains that contributes to Kyushu's agricultural richness.
Ⅱ. Kyushu's agriculture enhances nature's abundance...with loving care
In addition to the natural scenery described above that makes Kyushu so treasured by nature lovers, its fertile soil, abundant water and mild climate make it an agricultural paradise. The farmers of Kyushu may be a different kind of nature lover, but their love for the land, their farming lifestyle and their crops is heartwarming.
Rice has been cultivated in Kyushu for perhaps 5,000 years and is regarded as the cornerstone of Japanese meals. Wet rice cultivation may have been introduced from the Asian mainland around 3,000 years ago and has played a substantial role in shaping the landscape of Kyushu. At the village of Tashibu no Sho on Oita's Kunisaki Peninsula, visitors can climb a hill to a viewing platform for a panoramic view of the valley floor, with rice paddies largely unchanged for 1,000 years. In Saga Prefecture, terraced rice paddies run down hillsides like stairsteps at Teraura, Hamanoura and Oura. The Tanimizu terraces near the bottom of the Shimabara Peninsula similarly sculpt a hillside overlooking the Ariake Sea. These human-engineered landscapes are known in Japan as "tanada." With machine-based agricultural practices these days, the number of tanada in active cultivation is dwindling because their paddies tend to be too small for tractors. Nonetheless, they are exceptional feats of engineering that deserve to be treasured.
There is much that can be said about the beauty of rice paddies, whether in hillside terraces or stretched across the plain. One rewarding feature is the way in which paddies change across the seasons, shimmering like mirrors when flooded in early summer, waving with tall plants later in the season, shining golden just before the harvest. In most parts of Kyushu, the paddies can yield two harvests a year, one of rice and one of barley.
Similarly, when properly cultivated, many vegetables can be grown year-round in Kyushu, so even in winter, vegetables can be seen in plastic-sheeted hothouses.
Root vegetables grow particularly well in Kyushu's ash-rich, volcanic soil. On the flanks of Sakurajima in Kagoshima Prefecture, they grow a distinctive daikon (radish) that is round instead of elongated as is more common. The vegetable more resembles a turnip than a radish, and often grows very large, as big as a soccer ball.
Satsuma imo (sweet potato), native to Mexico, was introduced to Japan by Western traders in the early 17th century and quickly took root (pun intended). Nationwide, it is included in many dishes that use roasted vegetables. In winter, whole roasted sweet potatoes are popular as a snack. In Kagoshima (once known as Satsuma), where they thrive, satsuma imo are the most popular starch used in the production of shochu, a distilled white liquor particularly popular in Kyushu.
Kyushu is also known for its fruit production. Kumamoto Prefecture is regarded as the watermelon capital of Japan. There are so many different types of fruits grown in Fukuoka Prefecture that as many as 16 different farms/orchards offer fruit-picking experiences for tourists in different seasons: strawberries through the winter months; blueberries, grapes and pears in the summer; and persimmons in autumn.
Various types of citrus seem also to always be available somewhere in Kyushu. Mikan (mandarin oranges) are well-known to Westerners and are often grown on fairly steep mountainsides on terraces retained by tall stone walls, some of which are centuries old. Mikan seem especially prolific in Kumamoto, although they can be found in cultivation across Kyushu.
One citrus specialty of Kagoshima Prefecture is komikan, a very small mikan that is firm but sweet. While they are a tasty little treat, a more interesting use for them is in a locally-produced komikan-infused gin known as Komasa.
Miyazaki is particularly known for Hyuganatsu, a lemon-colored round fruit slightly tangier than a mikan. Its peel also has a distinctive aroma that is a blend of lemon and grapefruit. Perhaps, that is why at least one local craft brewery has begun to produce a beer flavored with Hyuganatsu. Miyazaki is also known for its kumquats, although these prolific bite-size citrus fruits are also grown in other areas of Kyushu.
Oita's best-known contribution to the citrus parade is kabosu, a small round fruit that is often confused with sudachi, but is in fact tangier. Kabosu juice is high in polyphenols and is often substituted for vinegar in dressings, although it finds its way into many other foods as well.
 Marine Lemon is a distinctive citrus that is being cultivated in Saiki in southeastern Oita Prefecture.. Often picked while still green, it is slightly sweeter than most lemons and has a pleasantly aromatic peel that is also edible.
Orchardist Munesaburo Hirotsuru has been cultivating Marine Lemons for nearly four decades. He is passionate about the fruit, which he says is the perfect variety of lemon because the trees are hardy and easy to care for and they produce delicious fruit for up 30 to 50 years. He grows his trees organically and without any hothouse or other seasonal covering. Hirotsuru picks up a handful of friable dirt from the orchard floor and crumbles it in his hand, explaining that it's exactly the right texture and composition for growing Marine Lemons. He then mutters to himself that it's almost time to get in a load of manure for fertilizer. He's clearly a man of the land who loves his trees.
At 84, Hirotsuru is slowing down a bit and has reduced his orchard. He now maintains about 150 trees; he once had 600. He still harvests around two to three tons of fruit a year in the September-November harvest season and takes orders from as far away as Tokyo and Hokkaido. Locals like to use Marine Lemon in local sweets and a Fukuoka company uses it to make a lemonade drink.
Hirotsuru wonders whether he can find someone to take over the orchard so that he can retire. Both of his sons have other careers and are not interested. At the same time, as he frets about succession, he arranges for local school children to come in on class trips to help with various tasks in the orchard throughout the year, a win-win situation in which he gets some assistance and the kids learn about agriculture. Pictures drawn by the children by way of thanking him for the experience adorn the orchard's fence.  
Cultivating shitake mushrooms is an industry that has even turned Kyushu's natural woodland to agricultural production. At elevations between 500 and 1,000 meters (1,640 to 3,280 feet), and in the right temperature and humidity conditions, shitake grow naturally on the bark of certain trees. Some people harvest these wild shitake, but more commonly these days, shitake are cultivated. Parts of Oita and Kumamoto have good moist conditions perfect for shitake. Consequently, they are two of the largest producers of shitake in Japan. The rich, meaty flavor of shitake have long made it popular in various Japanese dishes. These days, it is also becoming popular in the West both as a gourmet food item and as a health food.
Ryosuke Shimojo's grandfather was looking for a more viable crop than tobacco when he decided on shitake. His grandfather had concluded that the deep narrow valleys of northern Kumamoto Prefecture, north of the Aso caldera, with their moss-covered trees and burbling streams, had perfect shitake growing conditions and set about establishing Shimojo Kinoko-en. Twenty-six year-old Shimojo is now a third-generation shitake farmer.
The best-flavored shitake are grown on logs known as hotaki. And the best hotaki come from sawtooth oak (Quercus acutissima). Thus, Shimojo's grandfather's first task was to plant sawtooth oak trees and wait 15 to 20 years (it is also possible to purchase pre-seeded hotaki). He could then harvest the trees--best done between October and March--and let them cure for one to three months before cutting them into lengths of 120cm (47 inches).
Shimojo Kinoko-en not only harvests the trees they've planted, but also find other naturally growing trees to cull from the forest, an important step in caring for the forest, which can become overgrown if not tended. The abundance of available trees to become hotaki is especially fortunate at this time, as shitake growers in the Tohoku region had lost their hotaki in the 2011 disaster and the farmers of Kyushu were able to provide them with trees to replace what they lost.
Once the hotaki have been prepared, the fungus seeds are implanted into the barks. This is an interesting process, as the prefabbed seeds are small, thick buttons that have to be pounded into small holes drilled into the barks. With the seeds in place, the hotaki are lined up against a frame that holds them in an upright, angled position that allows both ventilation and moisture to permeate. The position needs to be just right, or unwanted fungus grows along with the shitake.
About 50,000 hotaki can be kept in a single plastic-sheeted hothouse. Shimojo Kinoko-en has 12 such hothouses, which they try to keep at around 25C to 30C (77F to 86F). "Shitake really won't grow in temperatures over 35C (95F)," says Shimojo. It's difficult to imagine that this deep, dark valley could ever get that hot, but he adds that in summer it's warm enough to make him replace the hothouses' plastic sheeting with black netting. In winter, he keeps a small brazier burning in each hothouse to release a small amount of carbon dioxide into the air, another element that helps the shitake grow.
Shimojo Kinoko-en grows four different varieties of shitake. Generally, it takes about 18 months for the shitake to be ready for harvest. But properly handled, the shitake that grow from the original seed will produce spores that embed into the hotaki bark so that the hotaki will continue to produce for three to five years.
"Go ahead." says Shimojo. "Pick one." He drops the freshly picked shitake onto the brazier and soon it begins to release its delicious aroma. Mouths water. There's nothing like biting into the fresh grilled flesh of a shitake that has been cultivated with so much love and attention. 
The land of Kyushu is blessed with amazing natural abundance. Even where humans are exploiting that abundance through agricultural endeavors, they do so with love and care bordering on reverence. Perhaps it is a function of Kyushu's millenial-long history, or of the nature-driven philosophy of Shinto, but this love of the land is inspiring. Might it also be contagious?